Fashionable and In Style Summer White Dresses (Images)
Tags: white, white dresses, style, summer, stylish, fashion, fashion style, women clothing, fashion for men
---
White dresses are one of the clothes worn especially in summer as it is appropriate not only for a cocktail party, but also for a weekend at the beach. Whether you want to replace an old favorite dress or you need inspiration for a new look, see the suggestions below to find the perfect white dress for you, regardless of your body or your budget.
White shift dresses
The shift dress is a piece of cloth that can be worn very easily using the appropriate accessories. Alongside its shape gives you comfort that you need during the summer.
The dresses are suitable for women who are athletic body type. The baggy silhouette of "caressing" the body but does not stress the curves or the middle. If you want to show off your biceps, this is the perfect dress for you.
There are several options to white shift dresses to choose what you like more. You can choose a floral shift dress, and a dress with embroidery.
Another nice option is the sleeveless shift dress, which has black stripes on the back to break the monotony of the white, but the sleeveless dress with laces front.
Two of my favorite options are the dress with long sleeves, which has openings on the side and the front part, and the dress with cut designs, which can be ivory, not white, but is a good proposal for the summer.
Night white dresses 
Especially in summer, dresses in white gives a feeling of freshness and elegance. All you need to watch out for is to avoid the lace so your dress doesn't like a wedding dress, and would not wear white dress at the wedding of your best friend.
The dresses are ideal for every body type. Just try to find a dress that fits you. If you have not an athletic body, then choose a dress that "caressing" your curves and shows little of your skin. If you want to reveal more parts of your body, look for dresses that are focusing on your favorite places, such as in the open back or a larger opening in the neck.
You can keep your dress quite simple, choosing an asymmetric version, or by choosing a dress with 3/4 sleeves and ruffles. If you like the more short dresses, then you can choose a sleeveless white dress and accentuate the legs and your chest.
If you like accessories, why not choosing a dress with openings in the middle and a metallic belt? A glamorous choice is the white dress with sequins, which ruled to pass unnoticed.
If you like bows, then you will adore the option below. You can choose a dress with one shoulder, which has a bow for decoration, or a sleeveless dress with bow just below the chest.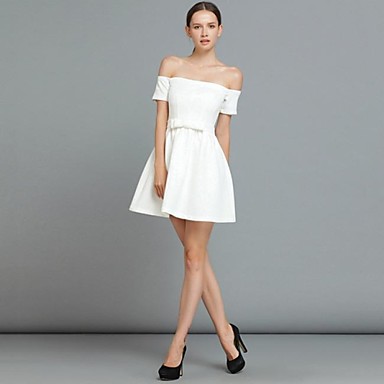 The body-con dresses are absolutely sechy as embrace and highlight the entire body. They have been created for exactly this reason – to accentuate your body, depending on the fabric and design you can wear in any occasion.
They are ideal to highlight and create curves. Their fitting silhouette not let you hide a lot of points, but also allow you to play with your curves.
And body-con dresses you can choose between simple, classic pieces and some more modern. You can put an asymmetrical dress, a dress with pockets or if you want a really simple version, you can choose the dress with straps.
Of course there are some more modern pieces that follow the trends for 2016. In this catecory belong dresses with openings on the sides, but also a nice version with lace and opening in the back, tying with bow. Also, because the stripes are a must this season, a good choice is the body-con dress with stripes.
White maxi dresses
The maxi dresses are worn at all times because they are comfortable and flatter every woman. With the choice of the proper dress and the accessories, they can be worn from morning till night.
The maxi dresses are ideal for every body type, you just have to find what suits you more. If you want to be covered by the top, look for a dress with long sleeves. If you want to show off your curves, choose a more fitting dress while if you want to accentuate your body type that is in an hourglass shape, find a tapered waist and is wider in the other points.
The see-through options are many clothes this summer, and maxi dresses follow this fashion. You can find long dress that ties at the neck and a large opening in the back and dress with lace at the top and around the garment . If you do not particularly like the see-through option, you can choose a dress that leaves an open bar and decorated with crocheted fringes.
If you like the crocheted and lace, then you can choose a dress whose top is all crochet or a dress that the entire back is covered with lace.
Some more formal and elegant choices are the maxi dress that flatters your body and leaves your shoulders open, and the dress-like crosses below the chest. Finally, a dress that you can wear it any time of day is the strapless dress that highlights your figure nicely.
White fit & flare dresses
These dresses are absolutely females. I love the fact that they have a very sweet and girlish figure that stresses your body.
The dresses are ideal for women who have hourglass body type and have or want to create curves.
The fit & flare dresses need not be only sleeveless. You can choose to have a very short sleeve or longer, which is back with lace.
You can also choose a denim dress with belt or a dress with built-up area of .
There are also more particular dresses left. A fit & flare dress with stripes but also a fashionable dress with holes.
White shirtdress dresses
The shirtdress dresses are something between shirt and dress. It is ideal both for work and for any other event. All you need is to combine it with the right accessories.
Every woman can wear it, regardless of her body. The shirtdress dresses can flatter any woman enough to choose the right shape. If you have curves, chose a dress A-line. If you have more male body, then you have to buy a dress that is more narrow.
If you like this style, you can choose a classic shirtdress or a dress with long sleeves, which can be flipped up . Also, you can choose a longer shirtdress with pockets and a dress that goes from completely classic styles since the back is decorated with subtle stripes and patterns.
You, however, can choose to wear a dress and with a more modern touch. Select a shirtdress with little asymmetry or a dress that ties in front.
Tags: white, white dresses, style, summer, stylish, fashion, fashion style, women clothing, fashion for men
---
FASHION see also…
5 fashion tips to look stylish at all times of the day
If you want to show a modern, elegant and stylish in your every appearance, there are several fashion tips that can be….read more
---
Our favorite season has arrived and we have already started to look the perfect swimsuit that will wear this year! The….read more
---
5 fashion items to "camouflage" your waistline in summer
A few extra pounds in your belly are not enough to make you constantly wear baggy or dark clothes, as there are….read more
---
The absolute trend in denim skirts for this year!
If you think to refresh your summer wardrobe with some stylish clothing pieces that will be in good stead in your….read more
---
The greatest reversal in fashion – What are the changes in the bra of Victoria's Secret (Photos)
Major change in the design of lingerie seems to make the company Victoria's Secret. The ultimate brand in lingeries….read more