Download autumn! 5 simple steps to organize your wardrobe
5 helpful tips to get the wardrobe of your dreams
Tags: autumn, collection, fashion, fashion style, women clothing, fashion for men
---
What should I wear tomorrow? If you spend more than five minutes to answer this question, perhaps this is related to the way in which you organize your closet. September is a good opportunity to arrange and get warmer clothes. Here are helpful tips that will make your life a little easier!
 Step 1: Empty your closet!
Put all summer clothes out from the shelves and divide them into categories. There are some that can be easily worn also in Autumn and others that should be stored in the back of your closet or in boxes. Select the clothes you do not wear at all and donate them to those who need them. You may love them, but you finally have to live without!
Step 2: Divide your clothes into categories
It is the most useful move you can make! Separate the clothes you wear most often and put them in a spot that is easily accessible. So you decide immediately what to wear, without wasting time searching in the closet and making clothes to need again ironing. There are many ways to divide them, depending on the color and the type (blouses, pants, underwear, accessories, footwear).
Did you know that there are special conditions that remove the air and reduce the volume of clothes? There you can save blouses, shirts, scarves and caps that are not going to wear this year.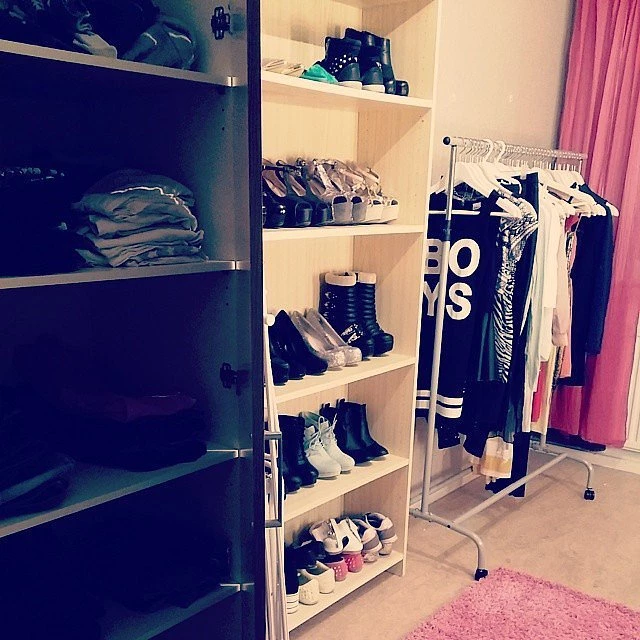 Step 3: Place them on shelves
Clean your closet and begin to place the blocks of clothes you prepared. Put diffuser and mothproof among them to preserve their smell every time you wear them.
Depending on the space you have, select what will fold and which will hang. For the jacket, jackets and pants, choose wooden hangers. For shirts, buy plastic hangers for the clothes are made from sensitive materials, use cloth. It will help to place them in the same direction.
Gather all your underwear in a drawer. You can separate by color and patterns. If there is no space, hang them in a pouch with pockets of your wardrobe side.
Step 4: Store the accessories
A smart way to save time is to place hooks inside the closet. There you can hang scarves, scarves, bags and belts! The other accessories such as gloves or caps you can store them in a transparent box to be easily viewed.
Step 5: Shoes
The best would be to store your shoes separately with your clothes in a shoe storage rack. If this is not possible, leave them in their boxes and collect them in the bottom shelf of your wardrobe. In the interior you can place papers in order not to be crushed. Ideal certainly will be not sleep in the same room with the stored shoes.
Let's start the hard work! And remember, do not put what you have already wore in the closet. This will not alter the smell of your clean clothes!
Tags: autumn, collection, fashion, fashion style, women clothing, fashion for men
---
FASHION see also….
Chiara Ferragni is not just a girl who loves fashion, but a fashion icon and whatever she wears becomes trend….
read more
---
The iconic Italian house presented a dazzling show featuring the bold inspiration and surprising mix & match….
read more
---
Eventually Kanye West may helped her to improve her style. Kim Kardashian can sometimes leave us surprised by….
read more
---
The new collection «Fenty FW16» is launched by Rihanna in the context of the third cooperation with the company «PUMA»….read more
---
See what is the trick to show taller and slimmer!
If you want to show taller and slimmer, there is no need to always wear high heels, all you have to do is to follow the….read more